Updated
Free to message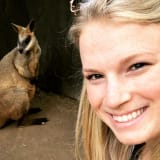 Preferred gender
Females & males (no couples)
Stay length
Minimum 12 months
About the room
This location is a 2 bedroom 2 bathroom upper-level condo right in the heart of Gainesville, Va. This condo is directly across the street from the Virginia Gateway center and you can stare straight at the Regal Cinemas, BJs Brewhouse, and many more nightlife attractions from the outdoor balcony! The area across the street has multiple shopping, dining, and entertainment options. (Can't beat the location!) The bedroom in the picture is the bedroom up for rent. Some of the listing pictures show the guest bedroom unfurnished, but I also have included the photos of the fully furnished room. (Full size bed, Nectar mattress, TV, dresser, full closet, Alexa, etc.) All other rooms are also completely furnished. There is a bathroom directly across the rental bedroom that will be yours (and only yours). This condo is a tiny, but beautiful and comfortable living space and is located in the perfect spot!
The current $1,350 rate includes the monthly rent, HOA monthly fees, water, trash, electric, and cable/internet bills. No other payment will be required on top of the monthly rent value.
About the roomies
Hi, my name is Alixandra Collins (I just go by Alix though). I am 27 years old and am a 2nd grade teacher here in Prince William County. I am a pretty busy person, so may not be home a ton throughout the week, but am looking forward to getting a roomie! Along with teaching elementary school, I am also a dancer and teach a high school competitive dance company a few nights a week and I tutor little ones as well after school (don't worry… they don't come over, I go to them!) I love to watch movies, exercise, and have fun! I am not a huge drinker, although I enjoy going out every once in a while, and I am not a smoker. I am a proud Penn State alum! (Bonus points if you support PSU!) I currently have a roommate who is relocating, so I am looking for another roomie. I do have a dog (Golden Retriever) named Callie who loves all people! I am overall a very clean person and like to keep the apartment clutter free and tidy. While I don't expect my roommate to be to my standard of cleanliness, I hope to find someone who likes to keep a clean space as well. I look forward to hearing from you!
Alixandra Collins's verifications
Phone number
US (814) XXX-XXXX
Alixandra Collins's social media
Find other
rooms
nearby:
Gainesville
,
Heritage Hunt, Gainesville, Prince William County, VA
,
Heritage Hunt, Gainesville, VA
,
Haymarket, Prince William County, VA
&
Gainesville, Prince William County, VA
.